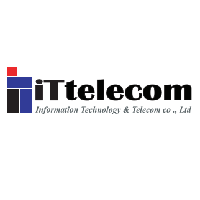 IT Telecom
Drive to the next generation, Expertise in the world's top C-ITS solutions
Contact - IT Telecom
76 LS Road #517 TheOValley Bldg
Dongan-gu, Anyang, Gyounggi-do, Korea
Anyang 14117
South Korea
Ask for Info - IT Telecom
Legal information - IT Telecom
| | |
| --- | --- |
| Nature | Headquarters |
| Year established | 2004 |
| Activity | |
| Co.Registration No | 138-81-21876 |
| No employees (address) | 6 Employees |
| No employees | 15 Employees |
| Kompass ID? | KR007064 |
| Kompass member for | + 7 years |
| Membership | Booster International |
Presentation - IT Telecom
V2X, DSRC, ITS, Stack, OBU, RSU,

# Company Information
- Since IT Telecom(ITT) was established in 2004, ITT has made continuous and utmost efforts to develop the cutting edge ITS wireless communication technology like V2X.

ITT was a leading V2X device(including V2X applications) vendor in Korea nationwide C-ITS R&D project, Smart Highway, of which period was longer than 7 years, and this led ITT to had successfully done the scratch development of whole V2X communication stacks, DSRC & ITS G5, including base band modem (IEEE802.11p) which was programed in FPGA.


# Strength

- ITT adapted its whole stack to the V2X conformance test system which contracted with Keysight on Mar 2018. Also, ITT ported NXP and Autotalks base band modem chip in its Linux based V2X devices (OBU & RSU) using its upper layer V2X software stack.
Mr. Kwang Joo Choi
CEO - Chief Executive Officer
News - IT Telecom
Press release
First U.S. OMNIAIR certified v2x equipment in Korea. Focus on C-ITS service performance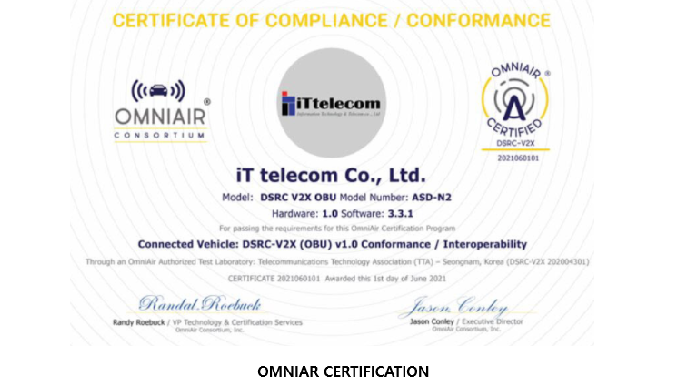 Date: June 20, 2021 1:16 AM
End: June 21, 2021 1:16 AM
Authenticate OMNIAIR with an IT Telecom V2X device
Participate in domestic C-ITS demonstration project and strengthen technical skills.
Building a Bridgehead for Global Advancement
It was the first time that Korean vehicles and V2X terminals used for next-generation cooperative-intelligent transportation system (C-ITS) services were certified internationally.
IT Telecom (CEO Choi Kwang-joo) announced on the 20th that it has obtained certification of the C-ITS vehicle terminal (V2X OBU) from Omni Air in the U.S.
OMNIAIR is a non-profit certification agency under the U.S. Department of Transportation (DOT). It is a certification that is widely used not only in the U.S. but also in Europe and other countries after complying with industry standards and rigorous testing processes.
To see the full article please follow the link
Activities - IT Telecom
Producer
Distributor
Service provider