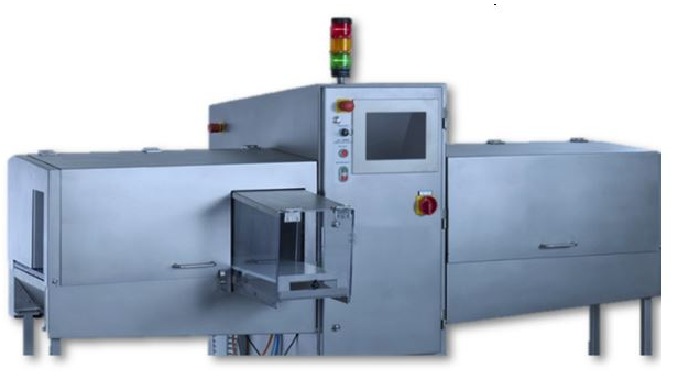 The end-of-line X-ray inspection system detects contaminated, damaged and defective products and packaging. Besides metallic and non-metallic foreign objects it detects missing, defective or misshaped products. All foreign objects are detected due to their density, chemical components or mechanical dimensions: the density differences are compared t
Description of the Product
The end-of-line X-ray inspection system detects contaminated, damaged and defective products and packaging. Besides metallic and non-metallic foreign objects it detects missing, defective or misshaped products. All foreign objects are detected due to their density, chemical components or mechanical dimensions: the density differences are compared to the product to be inspected. X-Ray system detects metal, glass, ceramics, stones, raw bones, PVC, Teflon, rubber and glass fibber reinforced plastics, Device detects product defects such as cracks or air pockets in tins.
Features:
· Real time results
· Inspection of products with variable density ranges
· No dead angle
· Easy and intuitive operation
· Easy maintaining and cleaning
· Compact, open and modular design
· Digital record of every package
· Rejection function for manual inspection
· Rotary main switch, key switch, switch On/Off, emergency STOP switch
Side shooter – single beam Side shooter X-ray inspection systems are used for packaged products which are taller than they are wide. The same principle applies here: the product must run through the X-ray beam with its flattest side facing the beam.
A side shooter X-ray inspection system has an X-ray generator that scans the product parallel to the surface and perpendicular to the direction of transport of the conveyor belt. The advantage of these systems is that an existing conveyor belt can be reused because it does not enter the detection range of the X-ray beam. Extra transitions between the conveyor belt and drive are not necessary. This also simplifies installation and integration in an existing packaging line.
Price of the Product
Price not indicated
Category of the Product
Ask for a quote
Company catalogues - Sapli Solutions