Tone Up Cream(SPF 50+ PA++++)/ JOYLIFE
- Product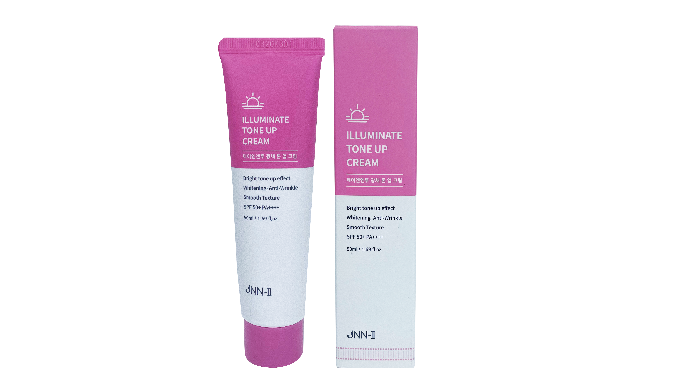 JNN-II ILLUMINATE Tone Up Cream / 50ml
SPF 50+ PA++++
Tone-up cream is based on a pink tone, so it presents bright and illumination for your skin
Whitening and anti-wrinkle triple functional cosmetics
1) Bright tone-up effect: Natural pink tone effect of skin tone-up
2) It a
Our recommended products and services
Description of the Product
JNN-II ILLUMINATE Tone Up Cream / 50ml
SPF 50+ PA++++
Tone-up cream is based on a pink tone, so it presents bright and illumination for your skin
Whitening and anti-wrinkle triple functional cosmetics
1) Bright tone-up effect: Natural pink tone effect of skin tone-up
2) It applies without a clumping: The texture is like a moist cream formulation
3) Making an illumination skin: It gives a soft pink that contained a pearl extract
Main Ingredient
Calamine, Glutathione, Niacinamide, Adenosine, 7 Hyaluronic Acid, Pearl Extract, Madecassoside
REVIEW - JNN-II ILLUMINATE Tone Up Cream
https://youtu.be/lY1TTL7b2mQ
https://youtu.be/4v2NTkysO7k
https://youtu.be/QyecEXd7Ecw
------------------------------------------------------------
# Company Information: JOYLIFE Co., Ltd.
Our company is a manufacturer which has a cosmetic production line in Korea. We are available various cosmetics skincare and even mask packs production lines. Internal and external large distribution networks provide by OEM and ODM production, by exclusive contracts with the major domestic and overseas distribution network.
Our motto "NEW FACE, NEW LIFE"
We believe that people had good skin when people were born, however; we are looked old because today our skin is damaged from the various environments. Moreover, skin age is affected by wrong eating habits, stress, diet, etc. it's not difficult to get back your youthful skin. Just feel our new anti-aging care system. Jungnani skincare set produces by skin experts will care for your skin easily and effectively.
if you interest in our brand then we can provide the best price in Korea.
Catalog (ENG / CHN)
https://prokcssmedia.blob.core.windows.net/sys-master-images/h15/ha3/9697664827422/2021-JOYLIFE%20catalog.pdf
Video
https://www.youtube.com/channel/UC6XU5_h7WRvBBRiNV4DMXuA?view_as=subscriber
Website
http://shop2.joylife77.cafe24.com/
Price of the Product
Price not indicated
Characteristics of the Product
Type

Tone Up Cream

Dimension

50ml

Brand

JNN-II

Label

Joylife Co., Ltd.

Origin

Republic of Korea
Category of the Product