TERAECO CO., LTD I REDGINSENG MASK SHEET WITH MUCHA ART
- Product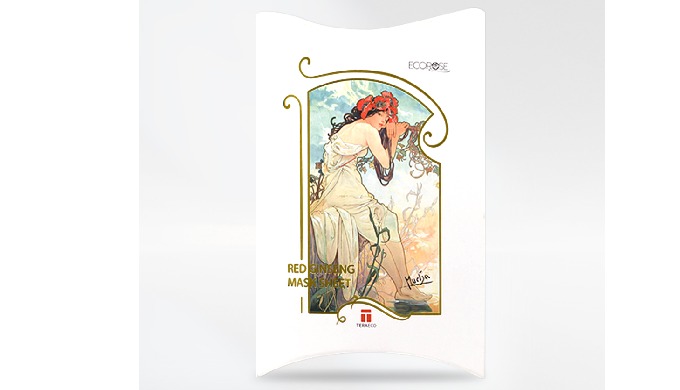 · Elastic Skin with Red Ginseng Extract
Various saponin ingredients in red ginseng protect tired skin and give vitality to perfect the elastic skin every day.
· Brightening Effect
Adenosine content provides brightening effect to rough and tired skin to perfect a glowing skin.
· Nature Friendly Ingredients
To supply moist...
Description of the Product
· Elastic Skin with Red Ginseng Extract
Various saponin ingredients in red ginseng protect tired skin and give vitality to perfect the elastic skin every day.
· Brightening Effect
Adenosine content provides brightening effect to rough and tired skin to perfect a glowing skin.
· Nature Friendly Ingredients
To supply moisture and nourishment to dull skin, it contains natural ingredients such as white willow, cinnamon, oregano leaf, cypress leaf, and anise pepper tree to make skin more moist and vital.
* The red ginseng extract has the key function to provide elasticity and moisture to the skin because the saponin in red ginseng promotes the biosynthesis of hyaluronic acid, natural moisturizing factor in the skin.

price - 0.7 per pouch without MOQ, 0.4 with MOQ 10,000
Price of the Product
Price not indicated
Technical Details
The redginseng mask sheet is a natural sheet with hub extracts. It facilitates the synthesis of NMF(Natural Moisture Factor), a natural moisturizer for the skin, and has important features that gives the skin elasticity and moisturization. A representative writer of Art Nouveau, the masterpiece of the century and Luxury mask sheet of Teraeco met Alphonse Mucha. The mask sheet, with the Teraeco's elegant sensibility add to your skin's happiness.

1. Moisturize with Redginseng extract
2. Smooth natural-flavored hub sheet
3. Whitening and anti wrinkle mask sheet of delicate scent

- Redginseng extract for skin elasticity – Redginseng's saponin provides nourishment and elasticity to the skin
- Collagen for elastic skin – It contains vegetable collagen similar to the main ingredients of skin protein to keep skin firm.
- Healthy skins as a natural ingredients – Keep skin moisturized all day with natural and natural vegetable ingredients

Natural Ingredients
Adenosine(wrinkle improvement function)
Golden flower extract(skin sedation, skin protection)
Oregano leaf(A lively skin)
Fruit of the Zanthoxylum piperitum(skin moisturizing)

Safe from harmful substances - Comfortable fitting with meticulous testings moisturizing to the skin
Mild hub natural sheet – Fit on the skin with natural fabric and a purifying sense of fitting
Category of the Product
I want to get more details about the product