Moolmang Pure Shower Head, Removes rust & Contaminants, High Pressured, Silky Shower, Water Saving of UBS INC Co., Ltd.
Product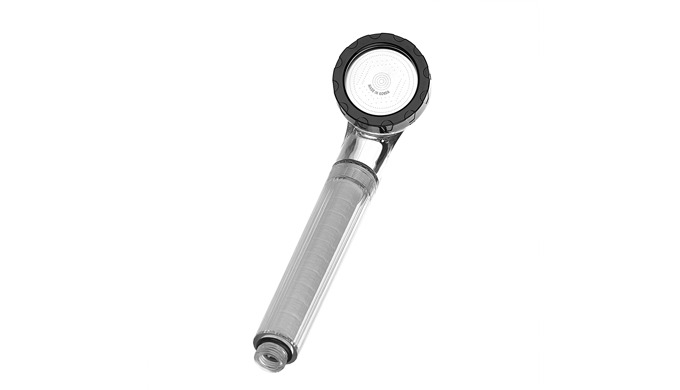 Moolmang Pure Shower Head

Your Shower Water

Rust & Sediments & Limescale
Rust (Red Water) may caused by worn out pipe and it may contained Iron and sediments.
Exposure to rust, sediments and limescale have been linked to skin irritation, increased allergy reaction and eye issues, etc.

Bacteria
...
Our recommended products and services
Description of the Product
Moolmang Pure Shower Head

Your Shower Water

Rust & Sediments & Limescale
Rust (Red Water) may caused by worn out pipe and it may contained Iron and sediments.
Exposure to rust, sediments and limescale have been linked to skin irritation, increased allergy reaction and eye issues, etc.

Bacteria
Gnarly bacteria like E.coli can make its way into water from human and animal waste that runs into reservoirs from broken pipes and sewage systems.

The effects depend on which sort of bacteria is present in your water. Bacterial infections can cause eye issues to skin issues to swimmers ear to lung and digestive issues.

Aging Pipe
Taking a refreshing shower washes away your daily fatigue. Sometimes, though, your body needs more! While your shower water may looks clean, it may contain potentially harmful contaminants picked up on its journey through aging pipes. Moolmang Pure Shower Head enables you to a refreshing shower for your mind and body without potentially harmful contaminants such as rust, sediments and limescale.

Even clean tap water supply from water plant, but, tap water go through old pipe that nearing the end of its useful life and reach to each home.

The quality of your tap water may be affected by aging water pipes and it may contain potentially harmful contaminants picked up on its journey through aging pipes. Also, this potentially harmful contaminants cause skin problem such as itchiness, dry skin, etc after take a shower every single day.

Everyone has a right to take a shower with clean water rather than wait till replace aging pipe lines and need to protect themselves and their family from these water concerns.

Moolmang Pure Shower Head removes contaminants like rust, sand, dust and fine pollutants by applied PP filter ( 5micron) and prevent germ growth by antibacterial ceramic ball cartridge.

Feature & Benefits

Removes Contaminants
Pure filter cartridge of 5 micron removes rust, sand,dust fine pollutants, floating matters and limescale.

Prevent Germ Growth
Antibacterial ball cartridge in the head prevents germ growth for your healthy shower.

High Pressured Shower
Specialized shower plate increasing 200% of water pressure so that you can enjoy refreshing shower and experience spa massaging effect.



Water Saving upto
Special shower plate provides water saving upto 40% when compare with general shower head due to flow rate is 6.0 liter per minute, but, geberal shower head shows over 9~10 liter per minute.

Soft & Silky Shower
Specialized shower plate of tiny hole 0.23 mm provides soft and silky shower spray. You can enjoy soft shower for your skin.


Fresh An Ion Shower
Specialized shower plate makes the shower head to release fresh An-Ions over 400,000 ea. So, you can enjoy fresh water fall shower.

Luxury Package Desgin

Pack with modern, sleek and durable designed box.

Certificate & Test Report

ISO9001, RoHS (Sediment Filter Block), SGS (Sediment Filter Block), NSF(Sediment Filter Block), etc.

Our Advancatges

OEM, QC, R&D(Registred Division), ISO9001, Good Service, Over 12 years know-how, Patents

Key word
Showerhead, moolmang, ubsinc, rust, limescale, watersaving, silkyshower, highpressure, healthyshower, waterfilter, showerfilter, aroma, handheld, koreastyle

Video Clip for Reference on youtube

https://www.youtube.com/watch?v=f29RDxMzqyw
https://www.youtube.com/watch?v=o31RPhUrkSY

Price of the Product
Price not indicated
Technical Details
Specification

Type: Hand Held Shower Head
Material: ABS, PC, Silicon, etc
Place of Origin: South Korea
Brand Name: Moolmang
Model Number: UMPU-SHSA01
Net Weight: 177 g
Filter Service Life: 2~3 months per 1 filter cartridge for the 4 family members in average
Temperature: 33.8 ~ 140 ºF
Pressure: 28.4 ~ 113.6 PSI
Rate Flow: 1.58 GPM
Inlet: G1/2x14(Int'l Standard)
Color: Transparent Body
Usage: For Shower Only
Name: Moolmang Pure Shower Head
Feature: Eco-friendly
Composition: Shower Head 1 pc + User Manual / Box
Package: Desinged Color Box
Size: 74*67*257 mm
Category of the Product