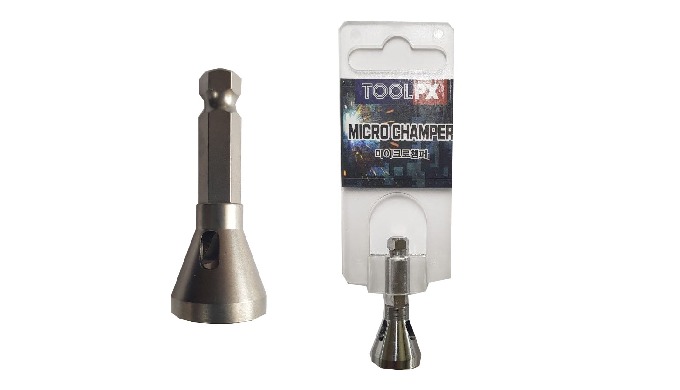 * Mounted on a drill, it is easy to repair worn bolts.
* Bolt Min Ø2.5 to Max Ø6 is available
* Chamfering for round bars, bolts (Ø2.5 ~ Ø6) available.
* Used for high-strength vacuum heat treatment, impact drills,and all drills

To purchase a sample, please click on the below link.
▶
Description of the Product
* Mounted on a drill, it is easy to repair worn bolts.
* Bolt Min Ø2.5 to Max Ø6 is available
* Chamfering for round bars, bolts (Ø2.5 ~ Ø6) available.
* Used for high-strength vacuum heat treatment, impact drills, and all drills
To purchase a sample, please click on the below link.
▶
Online Sample Mall
Price of the Product
Price not indicated
Characteristics of the Product
Technical Details
* Product: Micro Bolt Chamfering Cap [applied for a patent]
* Material: High-speed steel
* Hardness: 60
* Weight: 15g
Category of the Product