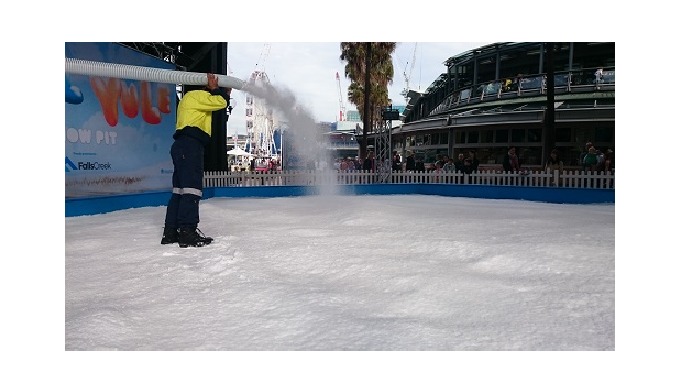 Ice magic makes Real Snow at any temperature.
IceMagic is a snowmaker that works in any season without being affected
by temperature.

Just need ice, power and Ice Magic for snow making.

Existing snowmakers can produce snow only below zero degrees.
However, Ice Magic can produce snow at any temperature.
Furt...
Description of the Product
Ice magic makes Real Snow at any temperature.
IceMagic is a snowmaker that works in any season without being affected
by temperature.

Just need ice, power and Ice Magic for snow making.

Existing snowmakers can produce snow only below zero degrees.
However, Ice Magic can produce snow at any temperature.
Furthermore, while existing snowmakers require complicated additional facilities Including a mass storage water tank, power and a high pressure pump for producing snow, Ice Magic can be utilized very efficiently because it can produce snow easily and Simply any place and any time with only the input of ice, the material for making snow, and power.

Ice magic makes Real Snow at any temperature.
IceMagic is a snowmaker that works in any season without being affected
by temperature.

Size (㎜): L2350 * W800 * H1350
Weight : 550kg (Main body)
Power : 380V, 3Phase / 19kW
Price of the Product
Price not indicated
Category of the Product
I want to get more details about the product
Company catalogues - Snow Tech Co.,Ltd