CARRIT chef knife roll bag eco-friendly leather knife case
- Product
Gwangjin-gu -
South Korea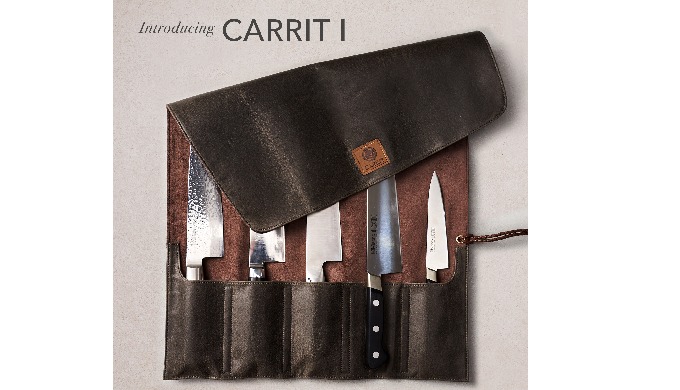 Differentiated Brand : Carrit

Carrit is not inferior to leather

1.It is made with acrylic leather technique, which is used to make leather, and is made with the texture of real leather through special work on the cotton fabric.
2.We also tried to make high-quality knife bags that are produced through sophisticated stit
Description of the Product
Differentiated Brand : Carrit

Carrit is not inferior to leather

1.It is made with acrylic leather technique, which is used to make leather, and is made with the texture of real leather through special work on the cotton fabric.
2.We also tried to make high-quality knife bags that are produced through sophisticated stitched and meticulous processing by taking more than twice the process time than regular factories.

But Carrit is different from leather

1.Real leather rusts as you use it, but because the Carrit is made of suede cotton, it is not rusted through ventilation and dehumidification, which makes it durable.
2.Washable Fabric : Since it is a coating material, not leather, it can be cleaned with a wet towel or lightly rinsed with water before drying. Also, it is hand-washable for long-term use and durability.
3.Ironable (low temperature) : If you want to get rid of wrinkles and scratches, it is a special fabric that disappears or relieves wrinkles if you iron it with a steam iron.
4.Carrit does not use animal skins. We are participating in efforts to protect animals and reduce environmental pollution while producing leather-like quality through special fabrics.
Category of the Product
I want to get more details about the product
Company catalogues - Carrit