Alpha amylase enzyme for animal feed Nutrizyme LTAA--professional enzyme manufacturer since 1996
- Product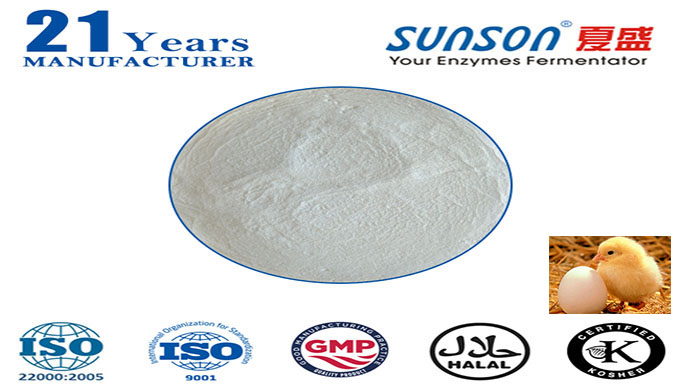 PRODUCT DESCRIPTION
Nutrizyme® LTAA (low-temperature α-amylase) [EC 3.2.1.1] is produced by submerged fermentation of Bacillus subtilis followed by purification and formulation. In animals, it is a major digestive enzyme and its optimum pH is 6.0.

For more details or any inquiries you may<...
Description of the Product
Price of the Product
Price on request
Technical Details
Definition of unit :
1 unit of α-amylase equals to the amount of enzyme which liquidizes 1g of soluble starch at 60℃ and pH6.0 in 1h.

Enzyme Activity : ≥1,500u/g ~3,000u/g

Appearance : Brown Powder

Dosage:
Used for Complete feed Dosage: (g/MT of complete feed)
≥1500 u/g 30-60
≥3000 u/g 15-30
Dilute the concentrated enzyme before usage.

Functions & Benefits:
Exhibits strong liquefying activity for starch, hydr- olyzing amylose (~40%) and amylopectin (~35%). Acting upon amylose, the substrate is readily hydrolyzed to oligosaccharides smaller than maltohexaose. The anomalous glucosidic linkages in amylopectin and glycogen are not attacked, yielding limit dextrins composed of 5-8 glucose units.

Advantages :
1.This product is calcium metalloenzyme, completely unable in the absence of calcium.
2.The Ca++ improves the stability of activity for the α-amylase, keeps active in a wide range of pH; otherwise the activity range in pH extremely reduces.

Package & Storage:
1.Packaging specification: 25KG/Bag
2. The shelf life is 12 months under 20℃.
3. Damp and insolation should be avoided. Store it in a cool, dry and ventilated place.

Category of the Product
I want to get more details about the product
Company catalogues - Sunson Industry Group Co., Ltd.

Company and product overview (English)
12 pages

Kosher certificate (English)
2 pages

MUI-HALAL certificate (English)
3 pages

ISO 9001 (English)
1 pages
Phytase enzyme for animal feed Nutrizyme®PHY-P (Phytase Premier I) (English)
2 pages