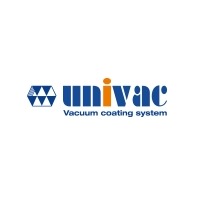 UNIVAC., Ltd
Contact - UNIVAC., Ltd
13-23, Somang-gil, Juchon-myeon, Gimhae-si
Gyeongsangnam-do 50969
South Korea
Send a message - UNIVAC., Ltd
Legal information - UNIVAC., Ltd
| | |
| --- | --- |
| Nature | Head Office |
| Year established | 1987 |
| Activity | |
| Corporate capital | 1,100,000 USD |
| Co.Registration No | 615-81-16166 |
| No employees (address) | 59 Employees |
| No employees | 59 Employees |
| Kompass ID? | KR007877 |
| Kompass member for | + 6 years |
| Membership | Booster |
Presentation - UNIVAC., Ltd
#Keyword : vaccum coating system, Ion Beam Coating System, Sputtering Coating Systems, Thin Film, Metal Coating Systems, QCM machine, DLC System and Etching system, clear coating machine, Extensiton R&D coating, high level optical thin film, High Vacuum Pump, Full automation vacuum pump, iontech for coating, DC Ion Beam Source type, Electron Beam Source, producing optical multilayer film, Thin Film Deposition Control, Coating Support Monitors, Sub System, pump and chiller, effect coating tech, Vacuuming promotion tech, Super speed vacuum

#Company Introduction
UNIVAC, LTD. was established in 1987 and since then has developed into a manufacturer of vacuum coating systems, and has been researching and developing expertise in various vacuum coating.
UNIVAC has extensive knowledge of the process for equipment and produces equipment by using advanced manufacturing techniques.

The goal of UNIVAC is to provide customers with the better services they need, including production and process training, from installing equipment to producing the highest quality products.
UNIVAC considers the constant challenge and business partnership as core values in accordance with the philosophy of technology-oriented creative thinking and human respect.
We will continue to keep our best partnership by preparing the production system to be ready whenever customer wants, also pursue the best quality and solution with customers.

UNIVAC's equipment is more cost efficient than other company and have the most advanced designs that will guaranteed quality reproducibility and mass production in various products.
UNIVAC has expert engineers to provide the best customer support and provide fast and reliable service in many countries.

# Strength
UNIVAC equipment and its parts are specially designed for various optical coating applications as well as decorative coatings. Especially, UNIVAC IBAD system is most suitable for various optical deposition, and boast of excellence of its stable in productivity and uniformity.

The purpose of the optical thin film coating is to improve the transmittance reflectance properties of the substrate material applied. Most deposition process can be broadly classified into one of the following categories: Anti-Reflection(AR), High reflection(HR), Partial reflection, Filter, and etc.

PVD (Physical Vapor Deposition) is a method for depositing a material such as a thin film to be deposited on a substrate by evaporation or sputtering in vacuum.
The PVD method can be divided into thermal evaporation, e-beam evaporation, sputtering, and ARC. CVD (Chemical Vapor Deposition) is another method for depositing thin film in commonly semiconductor manufacturing and unlike PVD, it uses gas such as oxygen and nitrogen as a raw material instead of using target, and etc.
PVD and CVD deposition layer from vacuum state to Nano scale. Unlike conventional wet plating, vacuum deposition method is a technique for depositing thin film by applying energy to material, so there is no environmental pollution, and the thickness of deposited thin film is very thin.

Recently, the needs of users in infrared, ultraviolet, and visible light are expanded to implement the optical characteristics required for film or lens, and are used for various purposes such as coloring and durability.
Currently, our equipment can implement more than 100 layers of thin film depending on the user's use and options, and the deposition process can be monitored in real time by using OPM and Crystal Sensor to perform a fully automated process.
General Information - UNIVAC., Ltd
Brands - UNIVAC., Ltd
UNIVAC (Producer, Distributor / Exporter)

Vacuum coating system manufacturer
Executives - UNIVAC., Ltd
Mr. Heungsang Yoo
CEO - Chief Executive Officer
Mr. Dosung Jeon
Deputy Manager
Key figures - UNIVAC., Ltd
Turnover
Activities - UNIVAC., Ltd
Producer
Distributor
Service provider
Main activities within the Kompass classification
Secondary activities within the Kompass classification