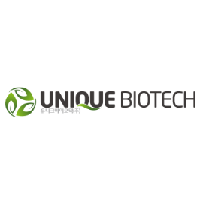 Unique Biotech Co.,Ltd
Contact - Unique Biotech Co.,Ltd
69, Foodpolis-ro 8-gil, Wanggung-myeon, Iksan-si
Jeollabuk-do 29131
South Korea
Send a message - Unique Biotech Co.,Ltd
Legal information - Unique Biotech Co.,Ltd
| | |
| --- | --- |
| Nature | Head Office |
| Year established | 2012 |
| Describe your Company and attract Business opportunities | |
| Co.Registration No | 302-81-24265 |
| No employees (address) | 10 Employees |
| No employees | 10 Employees |
| Kompass ID? | KR105054 |
| Kompass member for | + 3 years |
| Membership | Booster |
Presentation - Unique Biotech Co.,Ltd
#Keyword
propolis, water-soluble propolis, free-alcohol propolis

#Company Introduction
Unique Biotech Co., Ltd. has developed a method for "Manufacturing method of eco-friendly alcohol-free water-soluble propolis using natural honey"and registered its patent in Korea to apply for the international PCT patent. Also, it has been certified by the Ministry of Agriculture, Food and Rural Affairs Republic of Korea government as a unique and original technology for the "New Excellent Technology for Farm Food." The propolis produced with this technology is free of alcohol with no emulsifier and chemical additives. It is a water-soluble product with smooth taste and flavors free of wax or resin and a pure natural product free of harmful additives.

# Strength
There is no alcohol, No use emulsifier, No use chemical additives

# Video URL
https://youtu.be/Tt-xRs38lh8
News - Unique Biotech Co.,Ltd
Greetings!Thank you for visiting the website of Unique Biotech Co., Ltd.Unique Biotech is a bio venture company specializing in developing and producing the safe and unique food products of the highest quality.Thanks to the remarkable advancement of modern medical science, our average lift span has increased, but hospitals are being filled with more and more patients, along with increasing number of rare and incurable diseases.Such phenomenon is a symbolic display of the evolution of various disease causing factors, along with the advancement of modern medical science.Creation of resitant bacteria resulting from antibiotic misuse; environmental pollution as a result of industrialization & use of various harmful substances; and provision of unhealthy foods resulting from massive livestock farm breeding & use of genetically modified produce are examples showing that humans have mostly brought such consequences upon themselves.I have long been striving to present solutions to such issues through my ongoing research activities. In addition to participating in various government policy assignments and presenting my dissertations, I have been developing various patented technologies on a domestic & international level to expand the scope from healthy & functional food products to livestock & fish farm feed. Building upon these experiences, we here at Unique Biotech are taking our small but vigorous step towards our goal of providing solutions to such issues, and hope that you would provide us with encouragement & support for our endeavor with a common and shared hope.
We invite you to fully take advantage of and experience our 'unique' technologies and products offered by Unique Biotech.Thank you!
Company catalogues - Unique Biotech Co.,Ltd
Unique Biotech Introduction_English (English)

57 pages

Unique Biotech Introduction English (English)

57 pages
Company's Videos - Unique Biotech Co.,Ltd
General Information - Unique Biotech Co.,Ltd
Import area
Asia-Pacific, South America
China, Australia, Brazil
Export area
Asia-Pacific, North America, Central/East Europe
Viet Nam, United States, Hong Kong, Singapore, Turkey, Poland
Brands - Unique Biotech Co.,Ltd
Unibee (Producer)

Unique Biotech Co., Ltd. has developed a method for "Manufacturing method of eco-friendly alcohol-free water-soluble propolis using natural honey"and registered its patent in Korea to apply for the international PCT patent. Also, it has been certified by the Ministry of Agriculture, Food and Rural Affairs Republic of Korea government as a unique and original technology for the "New Excellent Technology for Farm Food." The propolis produced with this technology is free of alcohol with no emulsifier and chemical additives. It is a water-soluble product with smooth taste and flavors free of wax or resin and a pure natural product free of harmful additives.
Location - Unique Biotech Co.,Ltd
Contact people - Unique Biotech Co.,Ltd
Key figures - Unique Biotech Co.,Ltd
Turnover
Activities - Unique Biotech Co.,Ltd
Producer
Distributor
Service provider
Main activities within the Kompass classification
Secondary activities within the Kompass classification