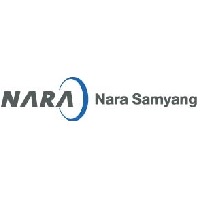 NARA SAMYANG REDUCTION GEAR. INC
Contact - NARA SAMYANG REDUCTION GEAR. INC
44, Eunbong-ro, Namdong-gu
Incheon 21632
South Korea
Send a message - NARA SAMYANG REDUCTION GEAR. INC
Legal information - NARA SAMYANG REDUCTION GEAR. INC
| | |
| --- | --- |
| Nature | Head Office |
| Year established | 1967 |
| Activity | |
| Co.Registration No | 139-81-00632 |
| No employees (address) | 168 Employees |
| No employees | 168 Employees |
| Kompass ID? | KR060580 |
| Kompass member for | + 6 years |
| Membership | Booster |
Presentation - NARA SAMYANG REDUCTION GEAR. INC
Manufacture & Export of
Manufacturer of General Purpose Machinery
#Company Introduction
Since the company's start-up of 1967, Nara Samyang Reduction Gear has contributed to the country's industrial prosperities by localizing reduction gear's development and production, and has been leading the country's reduction gear market while expanding its business area to high-end products related to mechatronics, electric vehicle, and defense industries and acquiring the most local market share.
Also, to provide customer impression over customer satisfaction, we will continuously promote such innovative activities as zero defect movement and compliance with delivery date so that the "Customer Impression DNA" can really be our nature, and we will grow to an infinitely Customer Impression company.
#Main Product : Reducer (=reduction gear = geared motor = gearbox)
[ Product Description ]
MAX : Geared Motor Strong and compact series of reduction gear covering up to the output range of 0.2kW ~ 15kW and the reduction gear ratio range of 1/5 ~ 1/120. This is assembled on the basis of the latest technology and know-how, as each part is standardized, the lifetime is semipermanent and this product is economical.
This outstanding product is supplied in a low price as all parts are produced by the mass production system.
Super MAX : Geared Motor Compared to the previous reduction gears, vibration and noise is reduced significantly. Materials used for making gears are SCM 420 and SM45C. Also carburizing, high frequency heat treatmentand polishing are performed to improve precision. Due to spray lubrication, oil amount is reduced by 10% and installation inclination angleup to 20 is possible.
MAX21 : Worm Reducer MAX21 : worm reduction gear has wide range of choices for power (0.2kW~75kW) and reduction gear ratio (1/10~1/3600), and having diverse product types including upper Type, Bottom Type, Vertical Type and 2Stage Type, it can satisfy diverse customer requirements. Also, this product ground precisely the worm tooth sides using profile grinder toimprove the gear contact efficiency. Screw Jack This is composed of high precision wormgear and trapezoid screw shaft, and this can prevent reversal at any location of a cycle. The reduction gear part adopts the grease lubrication as standard and realizes long lifetime in smooth motion. There are many optional functions such as cover protecting the screw shaft (Bellows), Hand Wheel and Trunion Base.
[ Technical Details ]
MAX : Geared Motor MainFeatures ?Small, medium-sized geared motors available in various types of horizontal, vertical and line power types ?;Helical gears are highly heat treated and polished for long life, low noise and high efficiency
Super MAX : Geared Motor Main Features ?Optimized design : Simple, smooth and polished design ?Low Noise, Low Vibration, High Efficiency: Low noise, low vibration and high efficiency with optimized design usingproven program ?Variety of installation applications: Practical design that can accommodate various customer needs such as horizontal, vertical, hollow, flange type.
MAX21 : Worm Reducer Main Features ?Newly upgraded design and production technology based on the equipment that invested heavily ?High precision, high efficiency, high rigidity ?Various shapes and sizes such as horizontal, horizontal, vertical Screw Jack Main Features ?High and low reduction gear ratio ?Revolution preventive key attached ?Shaft protection cover attached ?User selectable screw nut attached
#Catalogue
Product Detail :
http://www.kompass.kr/img/catalogue/K060580_7b1f9a186a.pdf
Usage :
http://www.kompass.kr/img/catalogue/K060580_1d60e69592.pdf
5

products NARA SAMYANG REDUCTION GEAR. INC
General Information - NARA SAMYANG REDUCTION GEAR. INC
Export area
Asia-Pacific, Asia-Pacific, Asia-Pacific, Asia-Pacific
China, Viet Nam, Malaysia, Japan
Location - NARA SAMYANG REDUCTION GEAR. INC
Executives - NARA SAMYANG REDUCTION GEAR. INC
JOONKU HAN
CEO - Chief Executive Officer
JAEHONG JO
International Director/Manager
Key figures - NARA SAMYANG REDUCTION GEAR. INC
Turnover
Net profit
Activities - NARA SAMYANG REDUCTION GEAR. INC
Producer
Distributor
Service provider
Main activities within the Kompass classification
Secondary activities within the Kompass classification