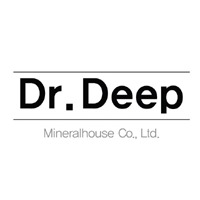 Mineralhouse Co., Ltd.
Contact - Mineralhouse Co., Ltd.
5F, 163, Sujeong-ro, Sujeong-gu, Seongnam-si
Gyeonggi-do 13292
South Korea
Send a message - Mineralhouse Co., Ltd.
Legal information - Mineralhouse Co., Ltd.
| | |
| --- | --- |
| Nature | Head Office |
| Year established | 2010 |
| Activity | |
| Co.Registration No | 129-86-41820 |
| No employees (address) | 19 Employees |
| No employees | 19 Employees |
| Kompass ID? | KR123005 |
| Kompass member for | + 1 years |
| Membership | Booster International |
Presentation - Mineralhouse Co., Ltd.
#Keyword : skin, toner, emultion, cream, anti aging, sun care, sun allergy, photosensitivity, water

#Company Introduction
Dr.Deep (Main Brand of Mineralhouse Co., Ltd.)
Dr. Deep is a dermacosmetic that keeps sensitive skin healthy and provides beauty.
It has been 10 years since Dr. Deep came into the world.
"Water" in Dr. Deep is different from others. Most cosmetics are made from purified water, but Dr. Deep uses high ionized mineral water pumped from a deep of 870 meters in the ground on Clean Island in the south coast of Korea.
The content of calcium is 5 times as high as that in milk. It contains various essential minerals such as magnesium, zinc, selenium, sulfur, etc. It discharges toxins and wastes from the skin and makes skin healthy by enhancing metabolism of substances and the immune system and increasing moisturizing power and nutrition.
In addition, natural oils and natural herbal extracts strengthen the skin barrier to protect the health and beauty of the skin.
As it is very effective in improvement of skin troubles, it can spread quickly through word of mouth. It is a natural cosmetic that can be safely used by the entire family.

#Core Value
- Naturalism cosmetics for every member of the family
- The pursuit of safe and natural ingredients for the skin without using chemical ingredients
- The pursuit of skin health and beauty
- Aiming at the remedy of troubled skin

#Vision
- To recover human skin health
- To share the corporate profit with society
- To be the world's leading company of natural mineral and herb moisturizer.

#Main Products
Dr.Deep Multi Emulsion
Dr.Deep Skin Toner
Dr.Deep All in One Cleansing Foam
Dr.Deep Aqua Wrinkle Cream
Dr.Deep Whitening Facial Emulsion
Dr.Deep Fresh Toothpaste
Dr.Deep Sun Cream
Dr.Deep Mask Sheet
News - Mineralhouse Co., Ltd.
Participate in an event

France Business Summit

Derma Natural cosmetics Dr. Deep participated in the Economic Delegation of the Korea-Philippines Business Leaders Summit hosted by the Korea International Trade Association and the MEDEF International (Federation of French Industries) in France
Company catalogues - Mineralhouse Co., Ltd.
Drdeep_CATALOG (English)

26 pages

Mineralhouse_Catalogue_pt1 (English)

43 pages
Mineralhouse_Catalogue pt2 (English)

43 pages
General Information - Mineralhouse Co., Ltd.
Certifications
| | |
| --- | --- |
| Type: | ISO 9001, CPNP EU, FDA USA, HRIPT TEST USA, |
Export area
Asia-Pacific, West. Europe, Central/East Europe, Central Asia
China, Spain, Sweden, Germany, Georgia, Hong Kong, Taiwan
Brands - Mineralhouse Co., Ltd.
Dr.Deep (Producer, Distributor / Exporter)
Location - Mineralhouse Co., Ltd.
Executives - Mineralhouse Co., Ltd.
Ms. Mi-Yeong Heo
CEO - Chief Executive Officer
Ms. Soo Jung Kim
Director
Key figures - Mineralhouse Co., Ltd.
Turnover
Opening hours - Mineralhouse Co., Ltd.
Activities - Mineralhouse Co., Ltd.
Producer
Distributor
Service provider
Main activities within the Kompass classification
Secondary activities within the Kompass classification