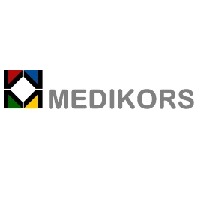 MEDIKORS INC.
Contact - MEDIKORS INC.
#1007, 124, Sagimakgol-ro, Jungwon-gu, Seongnam-si
Gyeonggi-do 13207
South Korea
Send a message - MEDIKORS INC.
Legal information - MEDIKORS INC.
| | |
| --- | --- |
| Nature | Head Office |
| Year established | 2013 |
| Activity | |
| Corporate capital | 400,000 USD |
| Co.Registration No | 144-81-14948 |
| No employees (address) | 9 Employees |
| No employees | 9 Employees |
| Kompass ID? | KR123384 |
| Kompass member for | New |
| Membership | Booster International |
Presentation - MEDIKORS INC.
Dual Energy X-ray Absorptiomerty for lab, DXA For Lab animals, Bmd for lab animals, Diagnostic X-ray system, Dual X-ray Absorptiomerty, Scan for Lab animal, High resolution grapic analysis, Analyze Bone Mineral Density, Analyze Body Composition of alive lab animals, Provide Body result Machine

#Company Introduction

Over 30% of MediKors' crews are researchers. As a technology-oriented company, we have been conducting various national R&D projects. In 2014, MediKors launched the world's first 108um bone mineral density and body composition analyzer for laboratory animals 'InAlyzer',which has been recognized for its technology by supplying it to national and international research institutes, universities and universityhospitals as well as overseas research institutes. It is approved by the US FDA at the end of 2018 and will launch the US market earlier this year. Based on our technological competence, MediKors secureda high level of precision and radical price competitiveness, with which we entered the human medical equipment market and have been constantly striving to contribute to distributing useful medical diagnosis and analysis technologies. MediKors values infinite challenge, sense of responsibility, craftsmanship, and humanity, and strives to discover technologies and provide products and services that enrich human life and happiness, with creative and honest staff. The new slogan 'Imagine the image' of MediKors, well expresses the constant challenge for the dream of MediKors crews as 'Imagine a dream come true'.

#Main Products

1. InAlyzer_DXA BMD and Body composition analyzer for lab animals ㅣ Scan for Lab animal
2. InAlyzer AIR_ 64ch DXA Bone Densitometry ㅣ Scan for Lab animal

#Video

https://youtu.be/6l-db7F0rJg
News - MEDIKORS INC.
Previous news
Press release

CEO INTERVIEW

Expansion of line-up of 'InAlyzer AIR' bone mass analyzer
Performance, quality and price competitiveness

The absence of a standard BMD meter - a complicated procedure
Clear definition of new technologies for medical devices


Medikors (CEO Kilian Yoon) is a company that develops products based on metrology technology that uses dual-energy X-ray absorptiometry to measure quantitative figures. More than 30% As a technology-oriented company that is a R & D workforce, it has been carrying out national R & D tasks.

Especially, based on the slogan 'Technology makes Life', it is based on the management philosophy of contributing to happiness of mankind by providing technology discovery and services with the belief that continuous technological advancement makes life better.

Founded in 2013, MediCore is the first company in the world to launch the 108um class body composition analyzer for laboratory animals in 2014, delivering it to domestic universities, university hospitals, and national and public research institutes. Based on these technologies, And is leading the industry market.


InAlyzer AIR, a bone density measuring device developed by Medikors, uses a 64-channel dual-energy X-ray detector based on fan beam technology and acquires 64 rows of data per X-ray irradiation. Provide high quality image.

In addition, it is attracting attention because it has realized high re-development and durability by using X-ray generator which does not need fast conversion of high energy and low energy and X-ray detector which collects high resolution and low energy high resolution data independently.

In this regard, Yoon also announced plans to increase its dominance in the domestic market by focusing on 'InAlyzer AIR' in the future.

Yoon said, "Unlike overseas markets, the domestic bone density market has a high penetration rate, and patients can also be concerned about osteoporosis, and it is also a dangerous disease." InAlyzer AIR has a performance comparable to that of foreign- "We will be able to launch successfully and gain market dominance by securing quality and ensuring unrivaled price competitiveness through the introduction of new technologies."

In addition, the company plans to expand its lineup of bone densitometers to the series of end-to-end, heel, and ultrasound and extend its technology to other medical devices.

On the other hand, Mr. Yun said, "The lack of a global standard is unfortunate in relation to the bone densitometer industry." Yoon said, "Although it is considered that the researcher can adequately prepare the standards that can guarantee the reliability of the measurement results, there is no standard for the domestic or foreign countries, but the so-called 'bogus equipment' It's not easy. "


Spine Analysis
In addition, regarding the regulations on medical device licensing, which is becoming a recent issue, Yoon replied, "If X-ray is used, it is hard to understand why it has been changed to receive additional licenses related to the Nuclear Safety Act even if the medical device is approved." do. It is said that the regulation is relaxed for industrial development, but the reality is that the reverse is going on.

In addition, Yoon emphasized 'firm belief that we will not give up' to those who dream venture business venture in the healthcare industry.

Yoon said, "Despite having established a concrete business plan with existing experience and capital, it is very difficult to start from the ground," he said. "If you do not have a firm belief that I will not give up, I will only hurt you."

He added, "I support the people who will start their dreams and take the steps to challenge with their firm goals and convictions."

Participate in an event

[KIMES 2018] Medikors, presented 'INALYZER' Analysis System for Bone Mineral Density and Body Composition Analysis

Medikors have participated 'The 34th Korea International Medical & Hospital Equipment Show (hereinafter referred to as, KIMES 2018)' from Mar. 15th(Thu) to 18th(Sun) and presented 'INALYZER' Analysis System for Bone Mineral Density and Body Composition Analysis.
More than 30% of all employees, including representatives of Medikores, have been involved in R & D projects in various countries as technology-oriented companies, which are R & D researchers. In 2014, it launched 'INALYZER', the world's first bone mineral density and body composition analyzer for experiments and secured technology by supplying it to Korean universities, university hospitals, and national and public research institutes.
'INALYZER' provides bone density and body composition results with a whole-body shoot within 60 seconds. Important data can be obtained at cleanup stores despite rapid measurements, and animal lives can also be kept safe. Also, because this product is internally supplied with a shield, it can effectively block radiation without having to use separate shielding and can check the internal status of the product while scanning with an observation camera installed inside the device.

Participate in an event

MEDIKORS exhibits 'InAlyzer AIR', 64ch Noble Bone Densitometry

"MEDIKORS exhibits 'InAlyzer AIR', 64ch Noble Bone Densitometry"

MEDIKORS (CEO Killian Yoon, www.medikors.com) participates in the 35th KIMES 2019(Korean International Medical & hospital Equipment Show) and unveils the 64 channels Noble bone densitometry 'InAlyzer AIR' lines. 'InAlyzer AIR' is the DXA (Dual energy X-ray Absorptiometry) based on 64 channels True Fan beam technology and it is the latest medical device applied the latest reference data. It is the first bone densitometry in Korea that provides DR images through high-resolution data processing technology and supports optimal diagnosis through accurate ROI (Region Of Interest) selection. Although Bone densitometry is not an imaging diagnosis device, InAlyzer AIR provides the DR image that can greatly support physicians in subjective diagnosis as well as setting up accurate ROI.

more

Participate in an event

MEDIKORS to Exhibit 'InAlyzer AIR', 64 Channel and Innovative Designed 'BONE DENSITOMETRY'

MEDIKORS(CEO Killian Yoon) unveils the 64 channels & the innovative open bottom designed 'InAlyzer AIR' at 'KIMES 2018' which is run from 15th to 18th of March at COEX.
InAlyzer AIR is the DXA (Dual energy X-ray Absorptiometry) Fan Beam technology that realize the high resolution by 64 channels and the unique design is for Premium line's bone densitometry. It has low height for elder patients and speed of scan time is aprox. 30 sec. to reduce patients and operators' inconveniences. The result of Bone Mineral Density can be shown with high resolution image.
MEDIKORS DXA technology has been recognized and proven by Universities Hospitals and National Research centers to which InAlyzer (Laboratory equipment) is supplied. The company has five patents with technologies and design. InAlyzer has proven the accuracy and precision of Bone Mineral Density & Body composition, conducting clinical trials at Seoul National University School of Dentistry.
Since MEDIKORS establishment in 2013, lunched the first device 'InAlyzer' (DXA body composition analysis for lab animals), innerVue3 (Digital Infrared Thermal Imaging system). In KIMES 2018 will unveil the new products line of Bone Densitometry, InAlyzer AIR, InAlyzer CORE, InAlyzer Q, etc.
MEDIKORS is receiving good responses and interests from International customers and various medias.
More news
Company catalogues - MEDIKORS INC.
General Information - MEDIKORS INC.
Certifications
| | |
| --- | --- |
| Type: | CE, ISO 9001, ISO 13485, KGMP, KFDA |
Import area
West. Europe
Andorra
Brands - MEDIKORS INC.
MEDIKORS (Producer / Exporter)
Executives - MEDIKORS INC.
Key figures - MEDIKORS INC.
Turnover
Opening hours - MEDIKORS INC.
Activities - MEDIKORS INC.
Producer
Distributor
Service provider