Contact - Healing-care Best Products
107, Gwanggyo-ro, Yeongtong-gu, Suwon-si
Gyeonggi-do 16229
South Korea
Latest products added Healing-care Best Products
Additional information
| | |
| --- | --- |
| Kompass ID? | KR005658 |
| Membership | Booster |
Legal information - Healing-care Best Products
| | |
| --- | --- |
| Nature | Headquarters |
| Year established | |
| Activity | |
| Co.Registration No | -- |
News - Healing-care Best Products
Other
「Healing Care Marketing Support Project」 (2021.08.)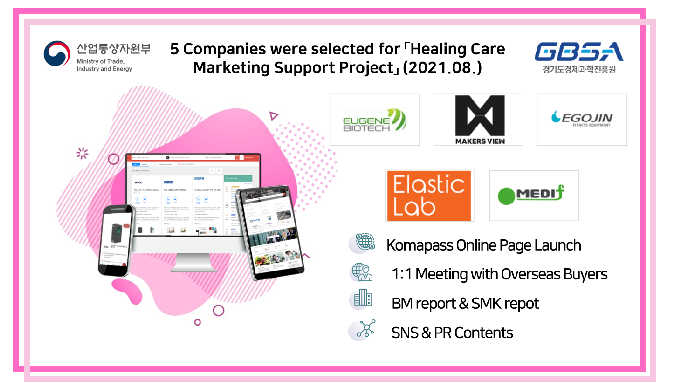 Date: September 1, 2021 9:06 AM
End: September 30, 2021 9:06 AM
Last month, 5 companies were selected as beneficiaries of the convergence marketing support program of the 「Data-based verification support platform for healing care products and services (Ministry of Trade, Industry and Energy)」 hosted by the Bio Center of the Gyeonggido Business & Science Accelerator.

The 'Healing Care Industry' is an industry that creates added value by producing and distributing products and services necessary for (non)medical activities aimed at preventing, healing, and improving the health of sub-healthy people In this business, this field is subdivided into beauty, food, medical, and exercise (rehabilitation) to establish the foundation and provide corporate support.

This marketing program consists of ▲Building an online exhibition space in Komapass, a global B2B online marketing platform ▲Business model building and technical marketing material production support ▲One-on-one online meeting with overseas buyers ▲Supporting the production of promotional content using social network services ▲Trade experts consulting. Through this one-stop marketing support, we promote the success rate of commercialization by building a customized business model for corporate products and services.

These companies were selected as a beneficiary of this support project in recognition of its excellent product power, export expansion potential, and growth potential in the field of and exercise (rehabilitation) / Beauty healing care.
Location - Healing-care Best Products
Activities - Healing-care Best Products
Producer
Distributor
Service provider
Main activities within the Kompass classification
Secondary activities within the Kompass classification