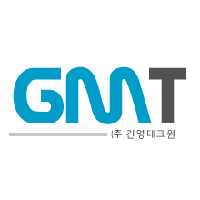 GMTWIN,GUNMYUNG TECHWIN CORP.
Contact - GMTWIN,GUNMYUNG TECHWIN CORP.
A-1301, 13, Heungdeok 1-ro, Giheung-gu Yongin-si, Gyeonggi-do, Korea
Gyeonggi-do 16954
South Korea
Send a message - GMTWIN,GUNMYUNG TECHWIN CORP.
Legal information - GMTWIN,GUNMYUNG TECHWIN CORP.
| | |
| --- | --- |
| Nature | Head Office |
| Year established | 2008 |
| Describe your Company and attract Business opportunities | |
| Co.Registration No | 220-87-68963 |
| No employees (address) | 16 Employees |
| No employees | 16 Employees |
| Kompass ID? | KR123236 |
| Kompass member for | + 1 years |
| Membership | Booster International |
Presentation - GMTWIN,GUNMYUNG TECHWIN CORP.


asbestos / Asbestos solid stabilization GMC-200
Method of processing asbestos solidity stabilization
asbestos solidity / inorganic coagulants
GMC-200 / GMC-100

# Company Introduction
Geonmyeong Techwin has become a recognized company in the field as it focused on IT solutions in its early days. In 2009, weexpanded our business to SI field by acquiring Kaiis, which has excellent technical skills but lacks marketing capabilities such as market demands, and in 2009, we developed IlSaecheon-ri (speed 142) that enables companies to perform all tasks without HDDs. In addition, he has worked on the development of IT security server equipment such as GNR-1300 and the establishment of local infrastructure through the Information and Communication Corporation.
The company has developed intoa leading company with an average sales growth rate of 80% or more over the years since 2011, and invested in the environment energy sectorin 2014 to prevent the destruction and destruction of asbestos-contained building materials.
As a small and medium venture company, weare moving forward to contribute to our growth and national development through continuous technology development.
In addition, as a manager, I tried to secure the competitiveness of the company and achieve the following certifications.
1 Selection of excellent venturecompanies in 2016 (continued growth)
2 Acquiring Innova Certification
3 Selection of promising small and medium businesses in Gyeonggi Province
4 T4 technology evaluation
5 Acquiring 5 Patents
6 Quality Management System Certification (ISO 9001:2015) andEnvironmental Management System Certification (ISO 14001:2015)

#Main product
1. Asbestos solid stabilization GMC-200

#Catalogue
http://kompass.kr/img/catalogue/20181015112152_1.jpg

Company catalogues - GMTWIN,GUNMYUNG TECHWIN CORP.
Company's Videos - GMTWIN,GUNMYUNG TECHWIN CORP.
General Information - GMTWIN,GUNMYUNG TECHWIN CORP.
Certifications
| | |
| --- | --- |
| Type: | ISO 9001, ISO 14001, Innobilise authentication, Encouragement of Environmental CoverNO.17094, New technology certification No. 1077 |
SEONG HAK CHA
CEO - Chief Executive Officer
JAE MIN CHO
BOARD OF DIRECTORS
News - GMTWIN,GUNMYUNG TECHWIN CORP.
Previous news
Other

Geonmyung Techwin, Minister of Commerce, Industry and Energy in 'New Technology Practical Use Promotion Contest'

Date: December 9, 2018 3:00 PM

End: December 10, 2018 2:59 PM

Geonmyung Techwin (CEO Cha Sung-hak) made an announcement on the 10th that it has received a commendation from the Minister of Trade, Industry and Energy at the 2018 New Technology Practical Use Promotion Contest.

The 2018 New Technology Practicalization Promotion Competition is an event hosted by the Ministry of Trade, Industry and Energy and the National Institute of Technology and Standards and organized by the Korea Association of New Products Certification. The Ministry of Trade, Industry and Energy holds the annual event to support the development of technologies for small and medium enterprises and promote the practical application of new technologies.

Geonmyeong Techwin won the commendation of the Minister of Trade, Industry and Energy at the event in recognition of his contribution to the development of the nation's industry through the commercialization of new technologies.

Geomyeong Techwin is a company that developed 'GMC-200', which is a asbestos solid stabilization drug. GMC-200 is a product that penetrates into the interior of building materials and effectively prevents asbestos scattering from external shocks. It also did not include heavy metals or volatile organic compounds. Due to this reason, it is a human and environment-friendly product, according to the company.

"The majority of asbestos solid stabilizers from other companies and foreign countries are not internal penetrated but outer coating products, which can pass the standard in the splash test, but if the asbestos construction material is damaged due to external factors, the asbestos particles can be dispersed," said a representative for a company.

Participate in an event

Geonmyeong Techwin Award for Environmental Friendly Environment Award

Date: October 30, 2017 3:00 PM

Hosted by Geonmyeong Techwin and the eco-friendly Water Money Today, the third 2017 Korea Good Company Awards ceremony was held at the Press Center in central Seoul on Wednesday afternoon. Geonmyeong Techwin (CEO Cha Sung-hak) won the Green Award at the event.
Geonmyeong Techwin has obtained certification for its new technology with its technology that solidifies asbestos. It is currently carrying out a government-led project with products that have been certified for environment and performance. By doing so, they contribute to minimizing environmental problems and guaranteeing public health rights.

Participate in an event

Efforts by Small and Medium Business to protect children from 'surface' fear, which is a carcinogen of cancer

Date: March 1, 2017 3:00 PM

asbestos has been designated as a class 1 carcinogen as prescribed by the World Health Organization. Since fine particles of asbestos can cause cancer-related diseases such as lung cancer, malignant mesothelioma, and asbestos lung if absorbed into the body through the respiratory system, they are already banned in Korea from January 2007.

Due to these problems, the government enacted the [Section Safety Management Act] and gradually implemented a 'Restrain Replacement Project' for public facilities and school buildings that used asbestos building materials, mainly local governments

However, due to a budget shortfall caused by the huge cost of demolition, the company does not have sufficient business results.

In particular, education facilities were found to contain asbestos building materials in more than 90% of buildings prior to 2007, most of which were found to be roofing materials inside classrooms. The Seoul Metropolitan Office of Education has steadily replaced the ceiling of the school by raising about 25 billion won a year for the project, but it still needs about 600 billion won in budget. In other words, with an annual budget of 25 billion won, it takes approximately 20 years for schools in the Seoul Metropolitan Office of Education to complete the removal of asbestos text after incense

While it is natural to secure students' health rights from exposure to asbestos in a short period of time and provide a safe educational environment, local governments and education offices are violating young students' "health rights" and "safety learning rights" for lack of budget and threatening their health. Therefore, instead of blindly expecting our children's lives and health in the" eviction project," which has to wait indefinitely due to a large budget, we urgently need to find a new alternative to solve this problem.

In response, the Seoul Metropolitan Office of Education successfully completed a pilot project using the "Surface-to-Surface Solid Stabilization System" developed by a promising small and medium-sized venture company in Korea (Gyeonggi-do Selection) to find ways to drastically reduce the national budget by securing students' "health rights" and drastically reducing budget and construction time.

Since the newly developed" inorganic asbestos solid stabilizers" work without having to dismantle, remove and rework existing asbestos-techs, they can save more than 60 percent in budget compared to demolition, although they also have advantages including prevention of environmental pollution problems of removed asbestos materials, simplification of construction methods, and reduction of construction period.

According to a report on the performance evaluation of asbestos stabilizers by the Korea Institute of Construction and Transportation, the average asbestos specimen concentration was 0.0153/cc in the case of a specimen that has not been stabilized, and 0.0244/cc in the case of diesel, which was measured by artificial damage on the surface, whereas two asbestos stabilizers were applied to the surface and 0.00/cc in the case of normal surface damaged.

Based on these research results, the Seoul Metropolitan Office of Education allocated budget for the Seokmyun High School, which was funded by the Seoul Metropolitan Government. The pilot project (2016.12.31.-2017.01.08) of the total budget of 150 million won (3.440m2 62 classrooms) was successfully completed during the short construction period.

It also received non-detection results in heavy metal measurements at the "Seoul Institute for Health and Environment," especially in the air quality measurement of the entire classroom after construction, resulting in a stunning 0.002/cc result, which drew exclamations from officials. Moreover, concerns over damage caused by earthquake lights in Korea also increased as the result was 0.003/cc below the benchmark.

"We have already received domestic patents and SME product performance certifications and are in the final stage of screening process to get new technology certification (NET), and we expect to have unique technology in Korea and export overseas as well," said(www.gmtwin.com) CEO of Geonmyung Techwin.

We hope that our people will be freed from" asbestos fear" as soon as possible through eco-friendly methods and products that no longer generate huge budget demands and environmental pollution problems after demolition. However, due to the lack of awareness on the product, more efforts will be needed to change the perception of each local government and education office officials, and a broader perspective and resolution of related government officials will be needed. We look forward to paying keen attention to how we can save huge national budgets and, above all, protect the health of the people.
More news
Location - GMTWIN,GUNMYUNG TECHWIN CORP.
Opening hours - GMTWIN,GUNMYUNG TECHWIN CORP.
Key figures - GMTWIN,GUNMYUNG TECHWIN CORP.
Activities - GMTWIN,GUNMYUNG TECHWIN CORP.
Producer
Distributor
Service provider