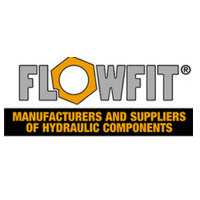 Flowfit
Harrier Fluid Power Ltd T/A Flowfit
"Everything Hydraulic"
Contact - Flowfit
Parys Road
Ludlow Business Park
Ludlow Shropshire SY8 1XY
United Kingdom
Send a message - Flowfit
Legal information - Flowfit
| | |
| --- | --- |
| Nature | Head Office - Sales Office - Warehouse |
| Year established | 1996 |
| Legal form | Private Limited |
| Activity (SIC07) | Non-specialised wholesale trade (46900) |
| Registration no | 03174819 |
| VAT no | GB682249809 |
| No employees | 30 Employees |
| Kompass ID? | GB25136567 |
| Kompass member for | + 4 years |
| Membership | Booster International |
Presentation - Flowfit
CLICK HERE TO DOWNLOAD FLOWFIT'S FULL CATALOGUE
From being expert in hydraulic sourcing in 1996
Flowfit
is now a market leader in everything hydraulic, from distribution to systems and manufacturing. Coming from humble beginnings,
Flowfit's
first office was an old Miner's home in Cinderford, Gloucestershire, with one employee. Within 6 months
Flowfit's
operations moved to a 400 square foot unit in Ludlow. By 2015
Flowfit's
facilities had expanded to its current 28500 square foot site, which comprises the head office, shop, engineering and warehouse facilities and, more importantly its employees. Now in November 2018
Flowfit
has started huge new expansion of extra warehousing on its two sites here in Ludlow covering another 8500 on two floors.
Flowfit's
ethos is to provide 'everything hydraulic' for their vast customer base. From parts and systems to bespoke designs, the dedicated and knowledgeable team at
Flowfit
can meet any hydraulic demand. There is a solution to every problem, and
Flowfit
has the answer. Whether it be hydraulic cylinders, hydraulic hand pumps, hydraulic motors and pumps or complete bespoke hydraulic systems,
Flowfit
is an industry leader in the provision of effective, reliable and top quality hydraulic components.
We believe the following makes
Flowfit's
offering unique to the industry;
Customer Service
Flowfit's
customers are the lifeblood of the business and the entire structure of, and processes within, the business are designed to ensure they receive the very best customer service. This focus on the customer experience is at the heart of
Flowfit's
success, regarded now as the best in the hydraulic industry.
Stockholding
Key to
Flowfit's
customer service drive and growth trajectory is the vast stockholding in the business, which enables staff to respond swiftly to any and all customer needs. Not only can
Flowfit
fulfil all product demands but it can ensure that should purchase occur before 4:30pm then the customer will receive their order by the next day. In many instances
Flowfit
are able to offer same day delivery to their customers as well – a service that places them leaders in the hydraulic industry.
Technical Knowledge
Flowfit
is able to offer all customers dynamic, expert technical support, whether related to a purchase or not. The strength and depth of
Flowfit's
technical expertise ensures customers have a full wrap around care and innovative and cost-effective solutions are always achievable.
Flexible Manufacturing Solutions
Flowfit's
technical engineers can deliver bespoke, packaged and cost-effective solutions. This is the true growth area of the business and
Flowfit's
capabilities mean that our staff can design, draw and build any hydraulic part or system to suit any customer requirement.
As well as manufacturing and supplying a range of high quality products from our own
Flowfit
Brand, we also work closely with a number of well-known manufacturers within the hydraulic industry to ensure our customers can find the very best solution for their hydraulic requirements. These companies are:
BUCHER
FILTREC
GALTECH
GATES
GL HYDRAULIC
HATZ
HONDA
LONCIN
MINTOR
M+S HYDRAULIC
OLEODINAMICA MARCHESINI
VINCKE
OLEORAMA
CICROSA
KOHLER
Chief Executive, Simon Parsonage said "We work hard every day to make
Flowfit
the world's most respected hydraulics company.
Flowfit's
drive is people. We offer great technical support, offer huge stock facilities for our customers and are continuously developing our product range and capabilities. All of this is aimed at maintaining our position as the best in the industry for customer service. Driving this is a staff who are encouraged to innovate and be the very best they can be."
CLICK HERE TO DOWNLOAD FLOWFIT'S FULL CATALOGUE
Free Advice
If you are not sure what you need, or you can't find a particular product, just call us. We're here to help you; we will also provide technical support and a free site visit to discuss your requirements.
Peace of Mind Guarantee
Everything you buy from us is guaranteed for a minimum of 12 months. If, during this time, a fault develops, then we will either; replace it free of charge, repair it or refund your money in full. We are proud to be a QMS ISO 9002 Registered Firm.
We are extremely proud after demonstrating that we produce hose assemblies to a standard set by the BFPA, that we have now been awarded the British Fluid Power Associations Seal of Approval for the production of hose assemblies.
Please note ISO 9001 2015 is being implemented and should be in place very soon.
The British Fluid Power Distributors Association (BFPDA) was formed in 1989 and is dedicated to improving the performance of distribution within the fluid power industry.
Flowfit
are a proud member of the BFPDA.
Keyword phrases
Bell Housings & Drive Couplings
Clutches & Gearboxes
Directional Control Valves
Electric Motors
High Pressure Hydraulics
Hydraulic Cartridge Valves
Hydraulic Cetop Valves
Hydraulic Cylinders
Hydraulic Filtration
Hydraulic Hose
Hydraulic Hose Crimpers
Hydraulic Motors
Hydraulic Power Units
Hydraulic Pressure Gauges
Hydraulic Pumps
Hydraulic QRC's & Adaptors
Hydraulic Solenoid Diverter Valves
Hydraulic Tanks
Hydraulic Tubing
Industrial Cleaning Products
Log Splitter Kits & Components
Manifolds
Mintor Accessories
Petrol & Diesel Engines
Stainless Steel Products
Vehicle PTO & Pump Kits
News - Flowfit
Previous news
Participate in an event

Midlands Machinery 2020

Date:

End:

Location: The Showground, Lincoln Road, Winthorpe, Newark, Nottinghamshire, NG24 2NY

Flowfit are pleased to be announce that we will be exhibiting at this year's Midlands Machinery Show 2020!
The Midlands Machinery Show which is organised by Newark and Nottinghamshire Agricultural Society will feature a wide range of small and medium sized agricultural businesses to show their diverse range of machinery and innovation to those who work in and have an interest in agriculture! Midlands Machinery is held over two days on Wednesday the 18th and Thursday 19th of November 2020 at the Showground on Lincoln Road in Winthorpe, Newark, Nottinghamshire.

Participate in an event

Royal Welsh Show 2020

Date:

End:

Location: Royal Welsh Showground, Llanelwedd, Builth Wells, Powys, LD2 3SY

Flowfit are delighted to announce that we will be exhibiting at the

Royal Welsh

show!

The pinnacle event in the British argicultural calendar, the Royal Welsh Show, will be held from the 20th to the 23rd July 2020 at the Showground in Llanelwedd. Along with an exciting four days of livestock competitions, with entries travelling from far and wide to compete, the show has something to interest everyone through its wide range of activities including forestry, horticulture, crafts, countryside sports, shopping, food and drink and a 12 hour programme each day of exciting entertainment, attractions and displays.

We look forward to seeing you there!

Participate in an event

Royal Highland 2020

Date:

End:

Location: Royal Highland Centre, Ingliston, Edinburgh, EH28 8NB

Flowfit are pleased to announce that we will be

exhibiting

at the

Royal Highland Show 20

20. Celebrating its 180th year, The Royal Highland Show is one of Scotland's most iconic events, showcasing the very best of farming food and rural life. A great day out for everyone of all ages, get up close to the country's top quality livestock, taste exceptional food & drink and experience rural living at its most vibrant. Visit our stand from the 18th to the 21st June 2020

!

We look forward to seeing you there!

Participate in an event

LAMMA 2020

Date:

End:

Location: Hall 17 and on Stand 112, Birmingham, B40 1NT, UK

Flowfit

will be exhibiting at this LAMMA, the UK's leading agricultural, Machinery, Equipment & Technology Show!

The

LAMMA

event brings together the whole of the farming community and regular attracts more than 40,000 visitors. This will be the 38th year with 11 halls packed with cutting-edge equipment. Join us on the 7th & 8th of January 2020 at the NEC in Birmingham.

You can find us in Hall 17 and on Stand 112. We look forward to seeing you there!

Press release

Further Expansion in the New Year

Date:

End:

Contact details sales@flowfitonline.com

Further expansion of our infrastructure and capabilities, as well as investment in new technologies and staff, will ensure that Flowfit becomes the hydraulics distribution and engineering facility in the UK. We will soon be a total one-stop supplier for hydraulic components and systems both nationally and internationally. Flowfit will be synonymous with innovation, expertise and fulfilment.
More news
Company catalogues - Flowfit
Flowfit Catalogue (English)

44 pages

Flowfit Quantity Break Catalogue (English)

84 pages
Flowfit in Pictures (English)

37 pages
General Information - Flowfit
Export area
Asia-Pacific, Central Asia, Middle East, Africa, Central/East Europe, West. Europe, North America, Central America, South America, Worldwide
Executives - Flowfit
Mr Simon Parsonage
MD/Chief Operating Officer (Managing Director)
Activities - Flowfit
Producer
Distributor
Service provider
Other classifications (for some countries)
SIC (GB 2007) : Non-specialised wholesale trade (46900)
NACE Rev.2 (EU 2008) : Non-specialised wholesale trade (4690)
ISIC 4 (WORLD) : Non-specialized wholesale trade (4690)